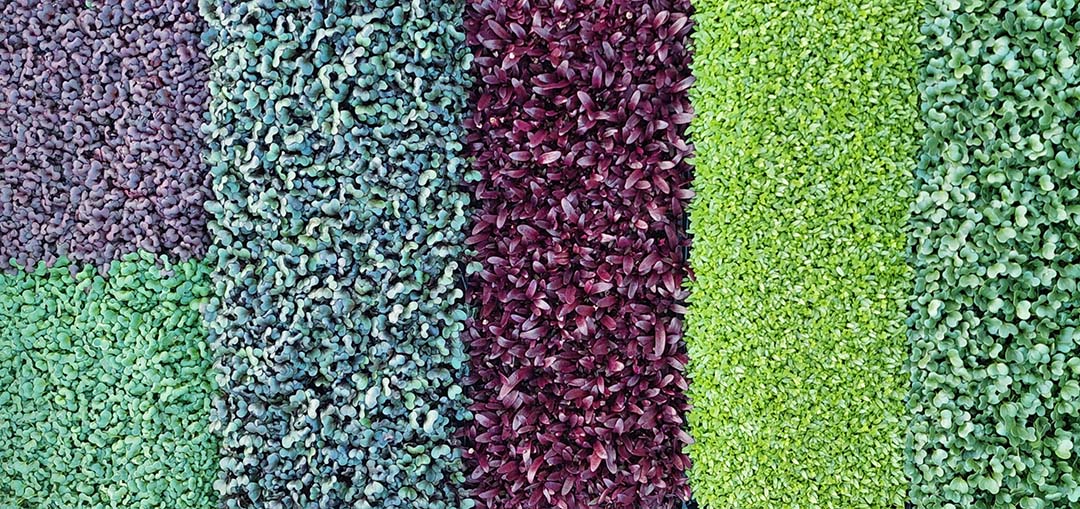 Ainslie Urban Farm specialises in growing seasonal microgreens for local restaurants in Canberra. Microgreens are nutrient dense because the tiny shoots that you eat contain all the nutrients that were packaged in the seed in addition to nutrients manufactured by the plant and absorbed from the soil. Our fresh and versatile greens are particularly juicy and flavoursome, making them great in salads and brunch dishes, whilst their colour and quality lend themselves beautifully to fine dining, adding colour, flavour, and flair.
Ainslie Urban Farm microgreens are grown from untreated seed in organic seed raising mix in trays made in Australia from recycled plastic. The trays are collected, washed and re-used. Most customers return the trays with the soil which is composted.
Our microgreens are soil grown, not hydroponic. Research has shown that soil grown produce has higher nutritional value than hydroponic produce. The reason for this is that soil is a home to millions of microbes. It is the presence of a robust soil microbiome that allows plants to produce secondary metabolites which give plants flavour and aroma. Many secondary metabolites are bioactive and have been shown to have beneficial medicinal properties.
The microgreens are grown in unheated and naturally lit greenhouses at my property. Just seeds, soil, sunshine and water. No chemicals are used.
The microgreens are delivered in the trays so they are alive! This means that they continue to grow and have a long shelf life. If stored correctly the shelf life of our product is from 1 to 2 weeks because they are living plants.
We grow to order for each customer. There is a 2-tray minimum order. Some products are grown all year and others are only available in late Spring to early Autumn. Trays are generous at 14cm x 33cm, priced at $20 each.
Deliveries are on Thursdays or by arrangement. Customers find that our microgreens stay fresh for up to 2 weeks. We can recommend optimum storage solutions for you so that you get the most out of our greens. Options are endless – some clients have even been known to plant the base of their shoots to grow full sized sunflowers!
We look forward to working with you to provide fresh, seasonal high-quality soil grown microgreens.
Please contact us at info@ainslieurbanfarm.com.au or on 02 6257 1582